SAM
(Service ⋅ Agreement ⋅ Management)
Briefly described, SAM is a strategic tool for growth, savings and optimization.
SAM consists of SAM's online service agreement calculator for both new cars and used cars, customer billing with Nets Easy Payment card payment and Betalingsservice, as well as easy administration and an overview of all business agreements.
HOLCO has started the journey with SAM in the world of the car industry, but today SAM is used in several different industries, such as camping, gardening and the motorcycle industry.
With SAM, the business gets a system where the customers, the service agreements and the handling of this are in focus. HOLCO and SAM are involved from the creation of the agreement to the end of the agreement.
SAM is with you from start to finish.
The elements of SAM
CUSTOMER COLLECTION
More options for customers
CUSTOMER SUPPORT
Professional customer support
CALCULATION OF AGREEMENT
Correct calculations are essential
REMINDER PROCEDURE
Process to get the money in
ONLINE CALCULATOR
Generate leads on your website
Correct calculations are essential.
Setup and calculation
We love numbers – but only real numbers – numbers you can trust and relate to.
SAM enters the factories' standard times into the calculator, as well as your spare parts, hourly and oil prices. Spice it up with the additional services you want to offer your customers. All together can divide per fire and even per model.
With all prerequisites in place, SAM makes the right calculations, both on new and used cars. Calculations that you can trust and that can later be checked and statistics made on.
No calculation is too complicated for SAM, and yet it must be easy to give the customer a price, whether at the point of sale or when the customer arrives at the workshop.
FACTORY SERVICE SCHEDULES
Factory working hours
Factory part numbers
Factory numbers and intervals
INDIVIDUAL SETUP
Your parts prices
Your hourly rates
Your oil prices
INDIVIDUAL CUSTOMIZATION
Your additional services/additional packages
Your extra services
More possibilities with SAM.
The monthly charge
– Customers are different, therefore SAM offers a palette of payment options
– SAM transfers the money directly to your account or after it has been concluded with us
– SAM contacts and notifies customers whose payment does not go through
– SAM is an administrative relief and time saver in an otherwise busy and hectic everyday life
COLLECTION OF DANKORT VIA NETS EASY PAYMENT
RECALL PROCEDURE IN YOUR OWN NAME
COLLECTION OF VISA & MASTERCARD VIA NETS EASY PAYMENT
MAINTENANCE OF THE END CUSTOMER'S MASTER DATA
COLLECTION VIA PAYMENT SERVICE
MONTHLY TRANSFER TO BANK ACCOUNT
...OR MONEY DIRECTLY IN YOUR OWN BANK ACCOUNT
Leads are everywhere, even in own books.
SAM as Lead-generator
New customers are not everything and the battle for customers is tough. However, we must first be good at keeping the customers we have before we go out and find new ones.
Customer satisfaction in the aftermarket has been on the rise in recent years, after the industry has increased its focus on the customer experience and contact with the customer. Resale. Why not sell a current customer a new car when the old one needs to be replaced.
With SAM, you have every opportunity to systematize this work. SAM gives you a wealth of information that can be used in the pursuit of selling cars to existing customers. Leads become easier to identify with SAM.
With SAM you get information about:
– contracts expiring
– directory to find interesting used cars (rolling used car inventory)
– contracts where the finances of the service agreement are not connected
– insight into the customer's finances on the agreement
– changed driving needs
Online calculator for Leads
You also have the option of putting an online calculator on your website. The customer can enter his registration number or VIN and then select the number of years for the agreement, the number of km per year  and desired additional services. The customer is then shown the calculated price and gets the opportunity to send you an enquiry.
Via API, your online calculator will always be 1-to-1 updated with your SAM platform.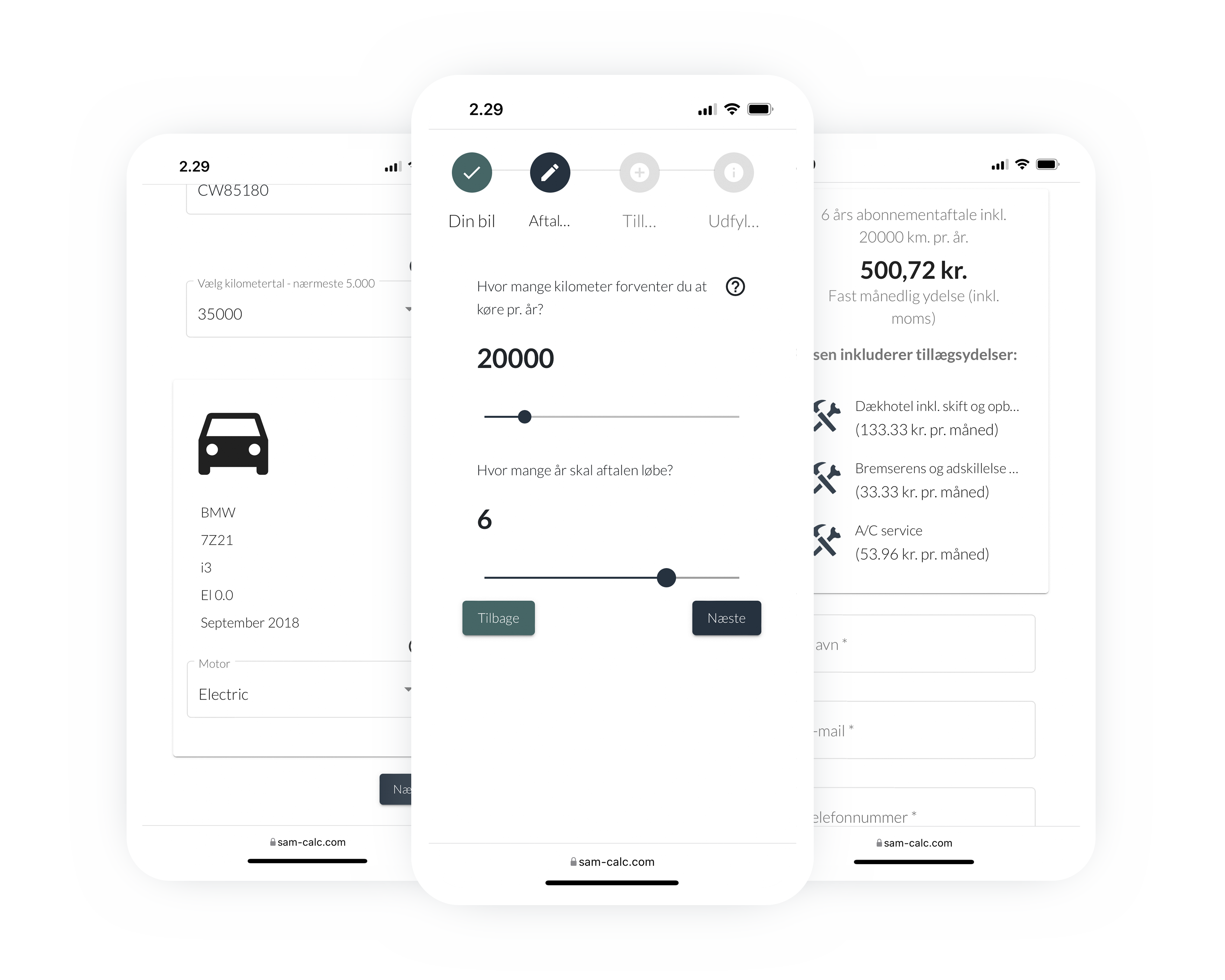 A cooperation agreement, not a contract.
We want to be your business partner
We want to be your business partner. It is our aim to be a partner to the industry in the fight to optimize the business, both via service agreements, but also through changed workflows, so that everyday life becomes easier, there is more overview and savings are achieved in both time and money.
Therefore, a collaboration with HOLCO is more than service agreements. We will ensure that you get off to a good start, with training and ongoing consultant visits. We will regularly come by you and spar with you, so that everyone is safe with service agreements. We will be your help to achieve your goals by increasing earnings, streamlining work processes, and increasing customer and employee satisfaction.
A business partner who wants the same is important. We will therefore promise to:
– all service agreements, customer data and information are always your property. HOLCO disclaims ownership and rights to customer information
– we are in control of the GDPR, and a GDPR agreement is entered into in the collaboration
– we continuously develop the system in line with customer needs and technological development
– SAM is a label solution where it is your branding that appears in systems, papers and contacts to the customer
Not just your business partner, but the industry's business partner…
…HOLCO will not be the primary platform in the companies
…HOLCO will be integrated into your primary platform
…HOLCO develops with a view to open integration
…HOLCO wants cooperation with others who are willing to cooperate
Service Agreement Management.
SAM. Much more than a service agreement calculator.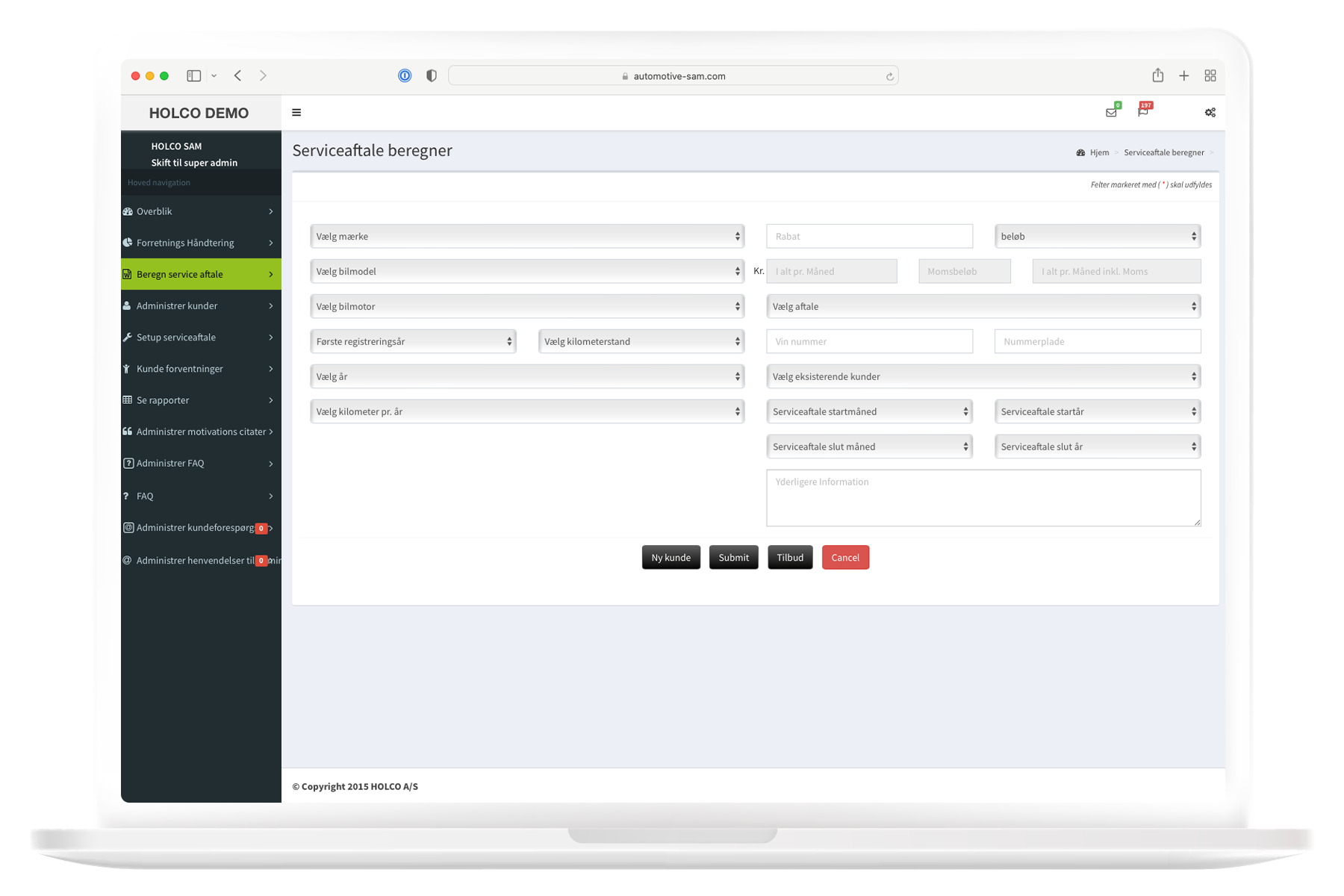 HOLCO started by teaching e.g. service agreements in the 1990s. Service agreements are therefore not a new thing, but rather something that was ahead of its time. A unified product that could calculate and create agreements, charge customers, keep an eye on the agreements and change the agreements did not exist, and therefore in 2014 HOLCO set about creating such a product, which became SAM. Today, everyone knows that service agreements help to control the company. It not only creates better customer experiences and thus higher customer satisfaction, but it gives the company new opportunities by, among other things, getting higher liquidity and getting control of data, and thus statistics for the company.
Steering. Growth. Liquidity. Optimization.