SERVICE AGREEEMENT MANAGEMENT
( Service • Agreement • Management )
Briefly described, SAM (Service Agreement Management) is a strategic tool for growth, savings and optimization.
SAM consists of SAM's online service agreement calculator for both new car and used car, customer collection module for Nets Easy Payment card payment and Betalingsservice, easy administration and overview of all the business's service agreements.
With SAM, the business gets a system where the customers, the service agreements and handling of this are in focus. SAM and HOLCO are involved from the creation of the service agreement to the end of the service agreement.
THE CALCULATION OF A SERVICE AGREEMENT
Correct calculations are crucial.
We love numbers – but only real numbers – numbers you can trust and which you can relate to.
SAM puts the factories' standard times into the calculator, as well as your spare parts, labour- and oil prices. Spice it up with the additional services you want to offer YOUR customers. All of course divided per brand and even per model.
With all the prerequisites in place, we can make the right calculations, both on new and used cars. Calculations that you can trust and that can later be checked and statistics made on.
No calculations are too complicated for SAM, and yet it should be easy to give the customer a price, whether it is at the time of sale or when the customer comes to the workshop.
MORE OPTIONS FOR THE MONTHLY PAYMENT
➤ Customers are different, we only know that all too well. That's why SAM offers a range of payment options.
➤ SAM transfers the money immediately after it is received by us.
➤ SAM moves the customers who forget to pay. Should there be a customer who has received a new Dankort, SAM will correct it. Customers' "master information" will always be up to date.
➤ SAM is an administrative relief and time saver, in an otherwise busy and hectic everyday life.
Collection of Dankort via Nets Easy Payment
Collection of Visa & Mastercard via Nets Easy Payment
Collection via Betalingsservice
Reminder procedure in the customer's name
Maintenance of end customer master data
Monthly transfer to bank account
... or money directly in your own bank account
EASY ADMINISTRATION AND OVERVIEW PROVIDES SECURITY
Administration, bookkeeping, control – all something that takes time – a lot of time – when the volume increases.
With SAM, we take up the fight against time-consuming and cumbersome administration. We provide security and an overview of your service agreements.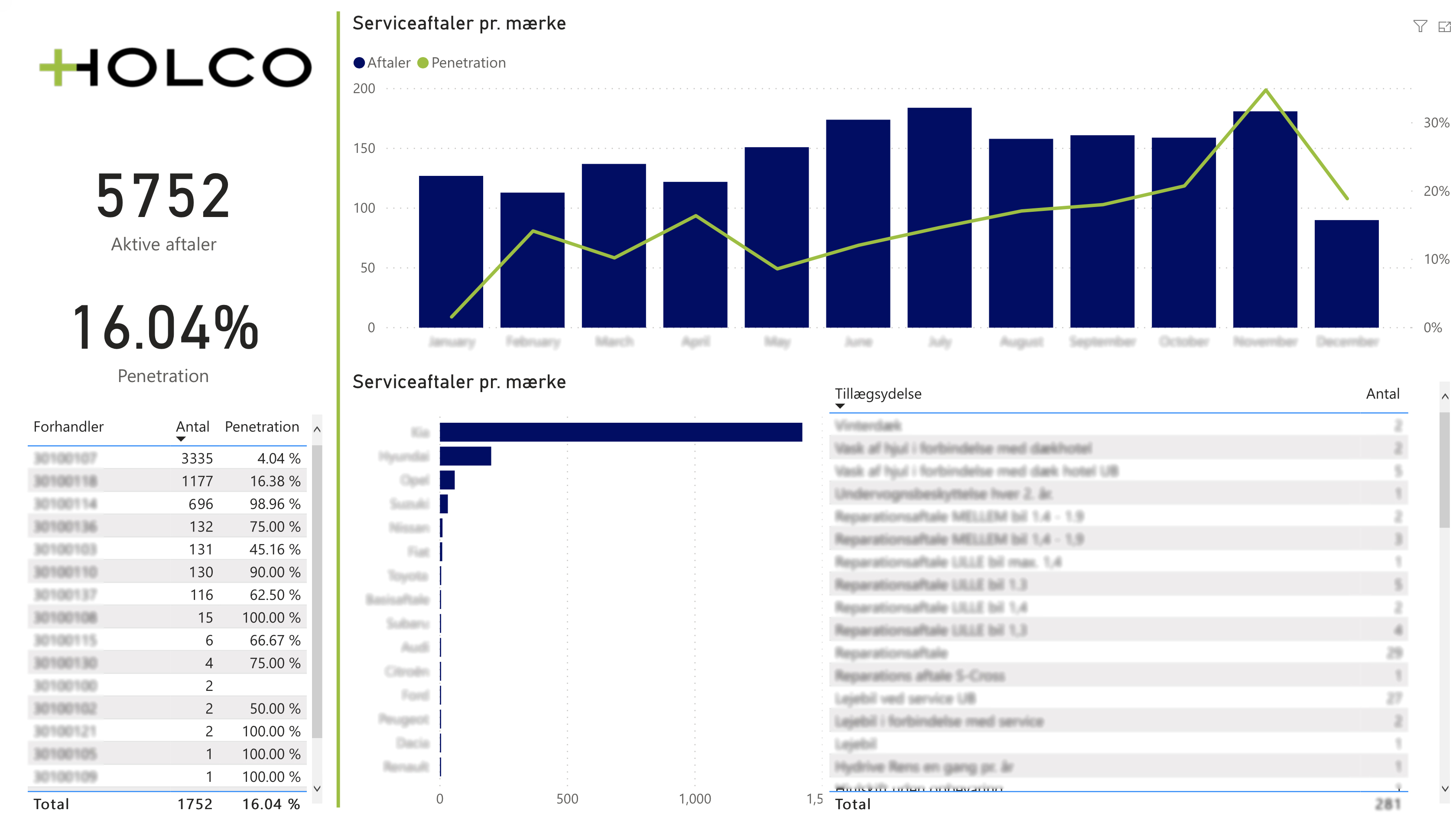 SAM performs checks on:
➤ actual kilometers in relation to the contract. If the service manager overlooks it, SAM discovers it!
➤ consumed spare parts
➤ invoice amount – it corresponds to what we expect according to the calculation
SAM does the bookkeeping
➤ SAM does the daily accounting of income and expenses
SAM informs about
➤ expired contracts
➤ next workshop visit
SAM changes the service agreements when
➤ the driving-need changes for the customer
➤ customers want to purchase additional services
SAM provides an overview of all information in the system via the SAM dashboard
➤ number of agreements sold
➤ total number of agreements
➤ the finances for the individual service agreement, for everyone, or per model
TIME IS PRECIOUS – WASTE TIME IS MONEY
We have great respect for time. There are constantly small tasks that "steal" our time, time that we really should spend on serving customers and performing tasks that create value. With SAM, a lot of time is saved. Most time with the hard-pressed aftermarket people – but certainly also in the accounting and finance department.
Let SAM take over the administrative tasks, keep an eye on the agreements and inform about what is relevant at the time when it is necessary. More time for customers will automatically spill over on customer satisfaction.
Let's calculate what you save of time by using SAM, we want to challenge you.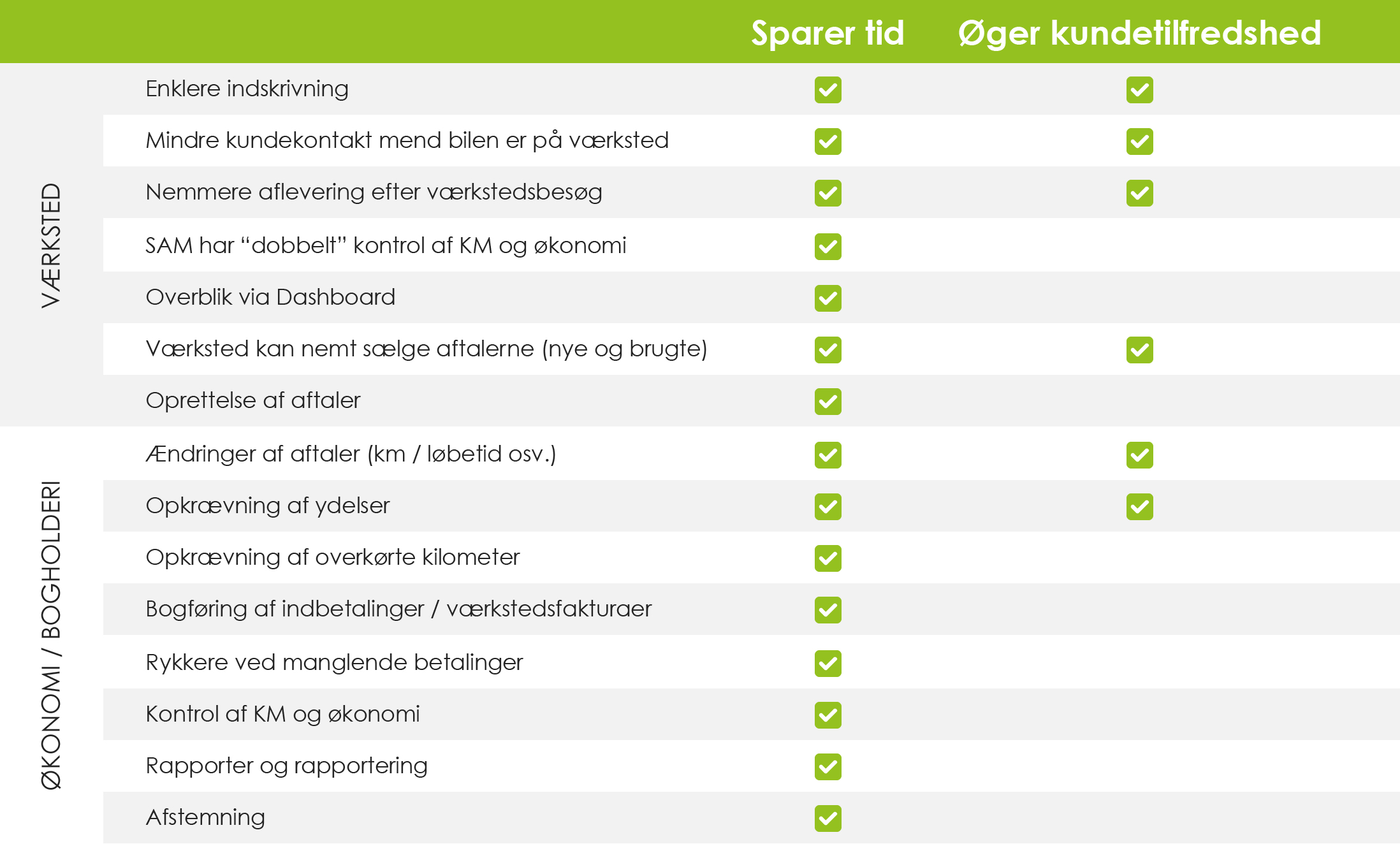 Everyone is talking about finding new customers, as the battle for customers is tougher than ever before. We want to challenge that thought.
We are convinced that we must first be good at keeping the customers we have before we find new ones. Resale to existing customers is not always impressive when we measure it. Imagine if we could increase that.
Customer satisfaction in the aftermarket has been rising in recent years, after we have increased our focus on the customer experience and contact with the customer. It would be a shame not to sell them a new car when the old one has to be replaced.
With SAM, you have every opportunity to put this work into a system. SAM gives you a wealth of information that can be used in the hunt to sell cars to existing customers. Leads will be easy to identify.
With SAM you get information about
➤ contracts that expire
➤ reference work for finding interesting used cars (rolling used car storage)
➤ contracts where the finances of the service agreement are not connected (perhaps the customer has got the wrong car)
➤ insight into the customer's finances – what do they pay per month
➤ changed driving needs – perhaps the need for a different type of car
WE WANT TO BE YOUR PARTNER
We do not want to sell you anything, we want to be your business partner. It is our purpose to be a partner to the industry in the fight to optimize the business, both through service agreements, but also through changed workflows, so that everyday life becomes easier, there is more overview and savings are achieved in both time and money.
Therefore, a collaboration with HOLCO is more than service agreements. We want to ensure that you get off to a good start, with training and regular consultant visits. We will regularly come by you and spar with you, so that everyone feel safe with service agreements.
We want to be your help in achieving your goals by increasing earnings, streamlining workflows, increasing customer and employee satisfaction.
Cooperation is a matter of trust
A partner who wants the same is important. We will therefore promise to:
➤ all service agreements, customer data and information are always your property. HOLCO disclaims ownership and rights to customer information
➤ we are in control of the GDPR
➤ we continuously develop the system in line with customer needs and technological development
➤ SAM is a label solution where it is your branding that appears in systems, papers and contacts to the customer
Service Agreement Management
SAM. Much more than a service agreement calculator.